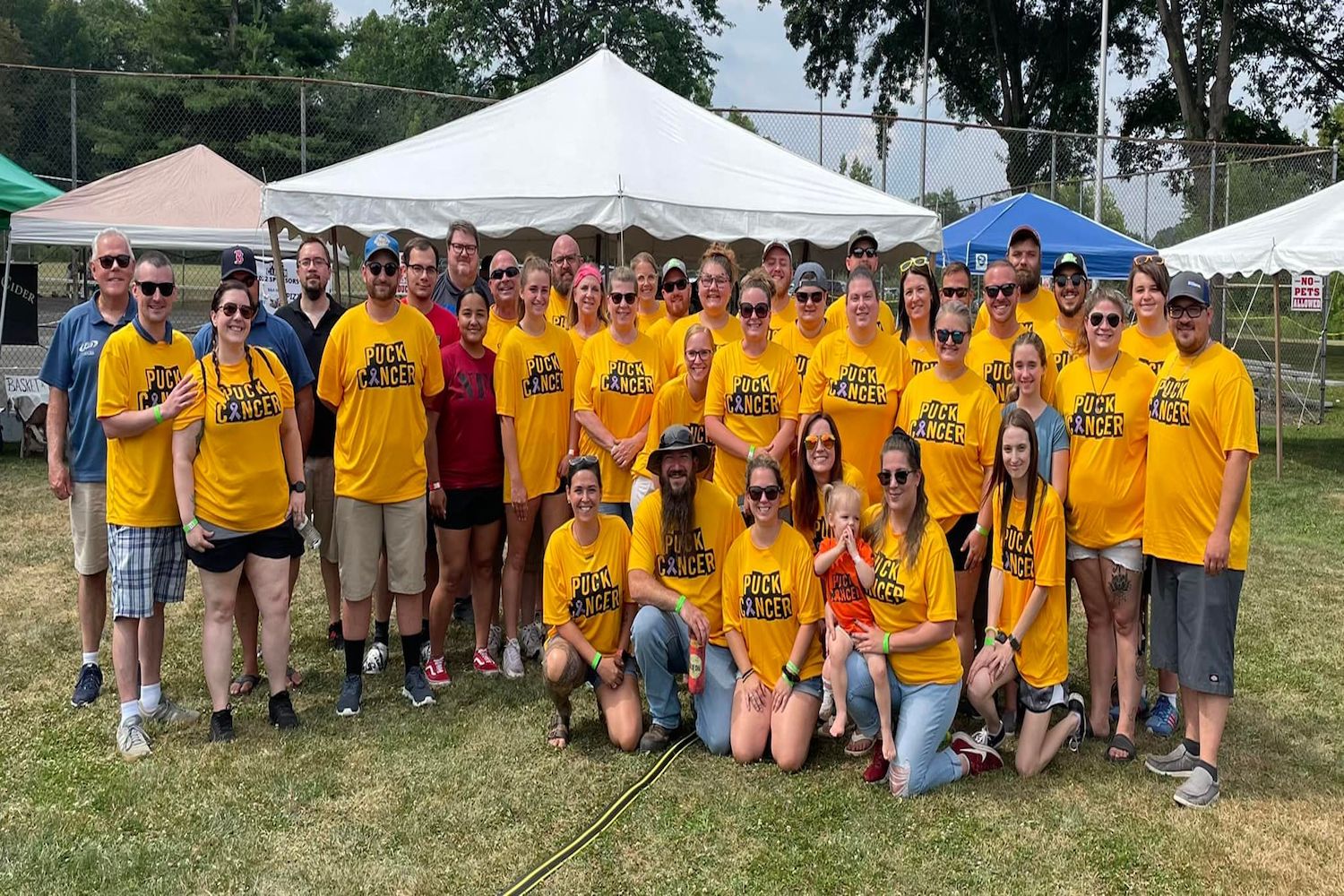 Thanks for stopping by!
Did you know that approximately 50% of people with cancer don't have insurance coverage or enough insurance coverage to cover all their expenses? This means they must choose between paying their medical bills or putting food on the table for their family. We want to change that by helping provide some relief from these costs so they can focus on getting better instead of worrying about how they'll pay their bills next month.
Since 2012, we've donated $134,961 to Medical Oncology Associates in Kingston, PA to help assist these challenges.
Browse Our Products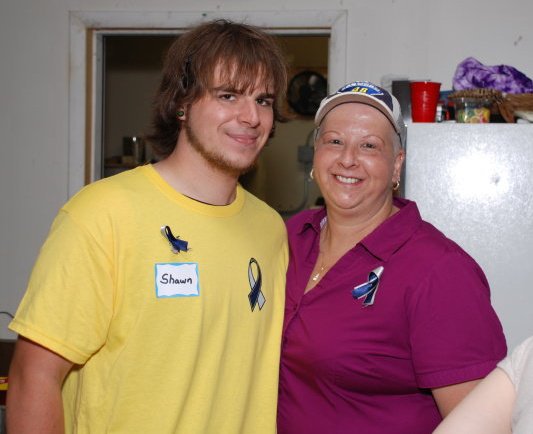 In memory of...
Puck Cancer INC. was founded in memory of Michelle Alberola Myers. Michelle was diagnosed with cancer in 2009.
Overwhelmed and surprised by the sudden diagnosis, the family feared the worst. Michelle, though, was a go-getter, and was determined to beat the disease in every way possible. Despite being given a mere 3-6 months to live, Michelle's cancer was in remission nearly one year to the day after her diagnosis. A short while later, though, the cancer came back, spreading relentlessly to Michelle's spine and brain, and on January 21st, 2011, Michelle passed away surrounded by her family.
Michelle's fight, determination, and strength inspired her son, Shawn, in countless ways. He witnessed, firsthand, the struggle his mother went through in order to pay for treatment, and he was determined to help prevent that same financial struggle in others.
The Medical Oncology Associates allowed Michelle to focus on healing, rather than money, and so Shawn and his wife Lauren are determined to do the same for as many people as they could.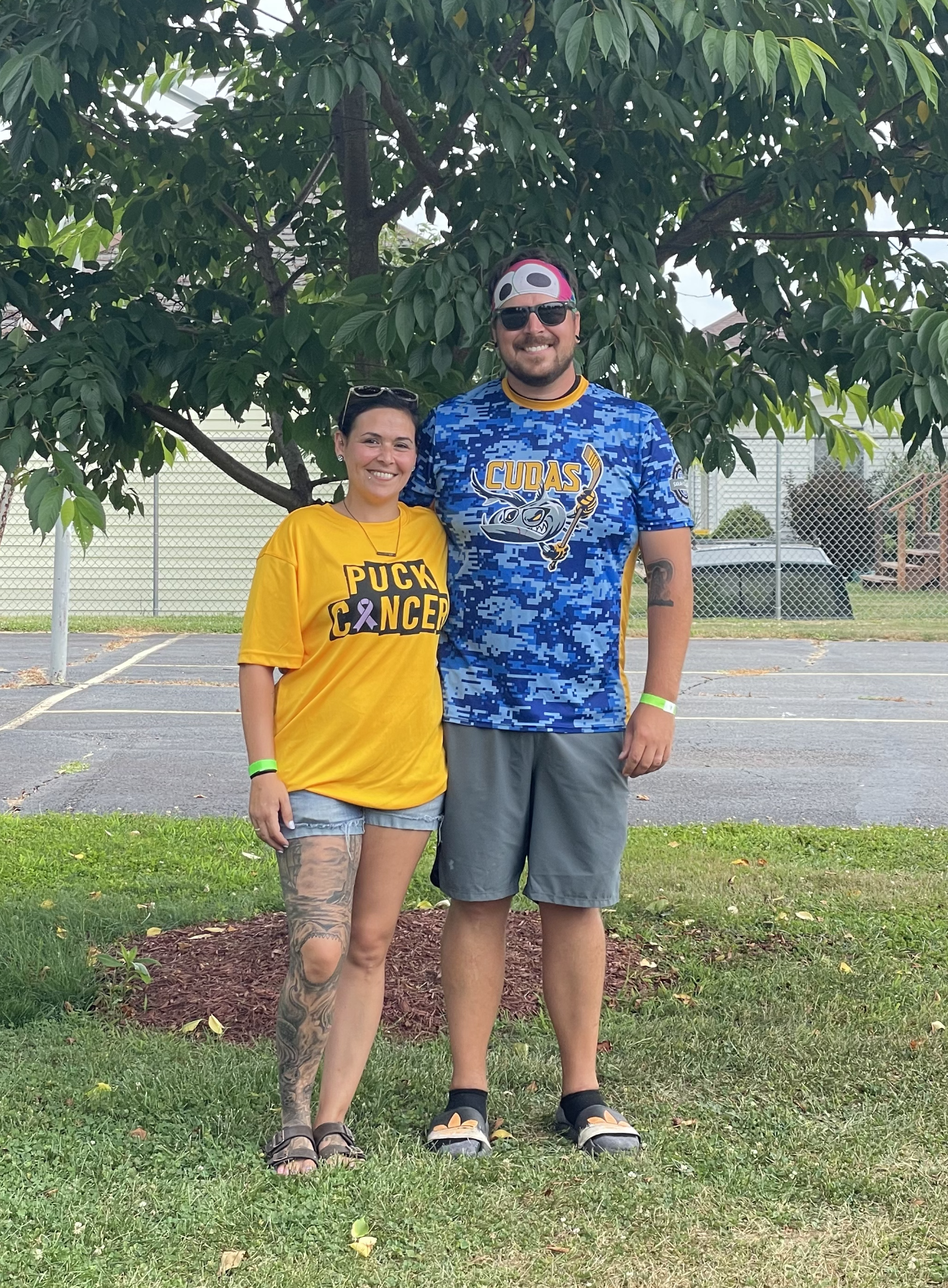 Our founders...
Oh hey! We are Lauren and Shawn Myers, the founders of Puck Cancer. We currently reside in Forty Fort, PA with our two daughters and three cats, and one big dog.
We founded Puck Cancer in 2012 after Shawn's mom lost her battle to cancer in 2011. Michelle was a patient at Medical Oncology Associates of Kingston (MOA), and because of the wonderful doctors, staff and their prescription fund she was able to enjoy one last year with her family.
MOA's prescription fund is to help their patients who are struggling with the enormous expenses that being sick can come with. The fund helps them with transportation, co-pays, groceries, medication and more.
To date, we have donated over $135,000 to the fund because of great supporters like yourself!
In July of each year we host our Summer Festival and this is where the majority of our proceeds are made. During this event we have a hockey tournament, food, live entertainment, basket raffles, kids games, bounces houses, face painters and more! Throughout the year we host other fundraisers such as lottery raffles, bingos, hockey arena takeovers and more!
SHOP
Donations

Want to donate? Click the link below or you can also mail donations to:

PO Box 2040

Kingston, PA 18704

DONATE

Our Beneficiary:

All funds raised are donated directly to Medical Oncology Associates Prescription Assistance Fund in Kingston, PA.

About the Fund